National
Tracheostomy
Safety Project
Welcome to the UK National Tracheostomy Safety Project.
Our goal is to improve the safety and quality of care for patients with tracheostomies and laryngectomies through education. We've collaborated with key stakeholders in tracheostomy care and developed these freely accessible resources, supported by online learning developed with the Department of Health. We've worked with the Global Tracheostomy Collaborative since 2012 to improve care for patients and their families around the world.
Access training videos and resources for Basic Care, Emergency Care and Vocalisation & Swallowing. Download and print bedhead signs and emergency algorithms from our resources. Download the NTSP app from the App Store or Google Play.
The National Tracheostomy Safety Project has collaborated with colleagues, patients and families from around the world to improve tracheostomy care. We have brought ideas and know-how from exemplar sites to the UK as part of the Global Tracheostomy Collaborative (GTC). The GTC is a Quality Improvement Collaborative and helps motivated sites and individuals implement best practices and collect data to see the improvements that are possible. We have secured funding from the Health Foundation (an independent charity committed to bringing about better health and health care for people in the UK) to test the impact of joining diverse UK NHS hospitals to the GTC. You can read about our programme of work, supported by the Royal College of Anaesthetists, on these pages.
As the infographic shows, tracheostomies (and laryngectomies) are not uncommon procedures in both Head & Neck surgical practice and as part of Intensive Care treatment. Unfortunately, tracheostomies can lead to problems with communication, eating & drinking and life in general for patients and their families. Frontline healthcare staff can be unsure of how to care for patients with tracheostomies and laryngectomies, especially if they are unfamiliar with them. Our work has shown that by preparing staff, locations and hospitals, we can have a big impact on the quality and safety of the care that is provided for patients and their families.
We hope that these webpages tell you about what we do. There is information here for healthcare staff, for patients and their families and for organisations looking to improve care. You are joining a global community dedicated to improving care for some of our most vulnerable patients, at difficult times in their lives.
Our future work will look at resources for children with tracheostomies and their families and patients managed in the community. The National Tracheostomy Safety Project is staffed by volunteer healthcare professionals, patients, students and members of the public, supported by staff seconded as part of grant-funded projects. If you want to get involved or donate to help us fund our work, please click here.
If you want to use any of our resources, read our terms and conditions below.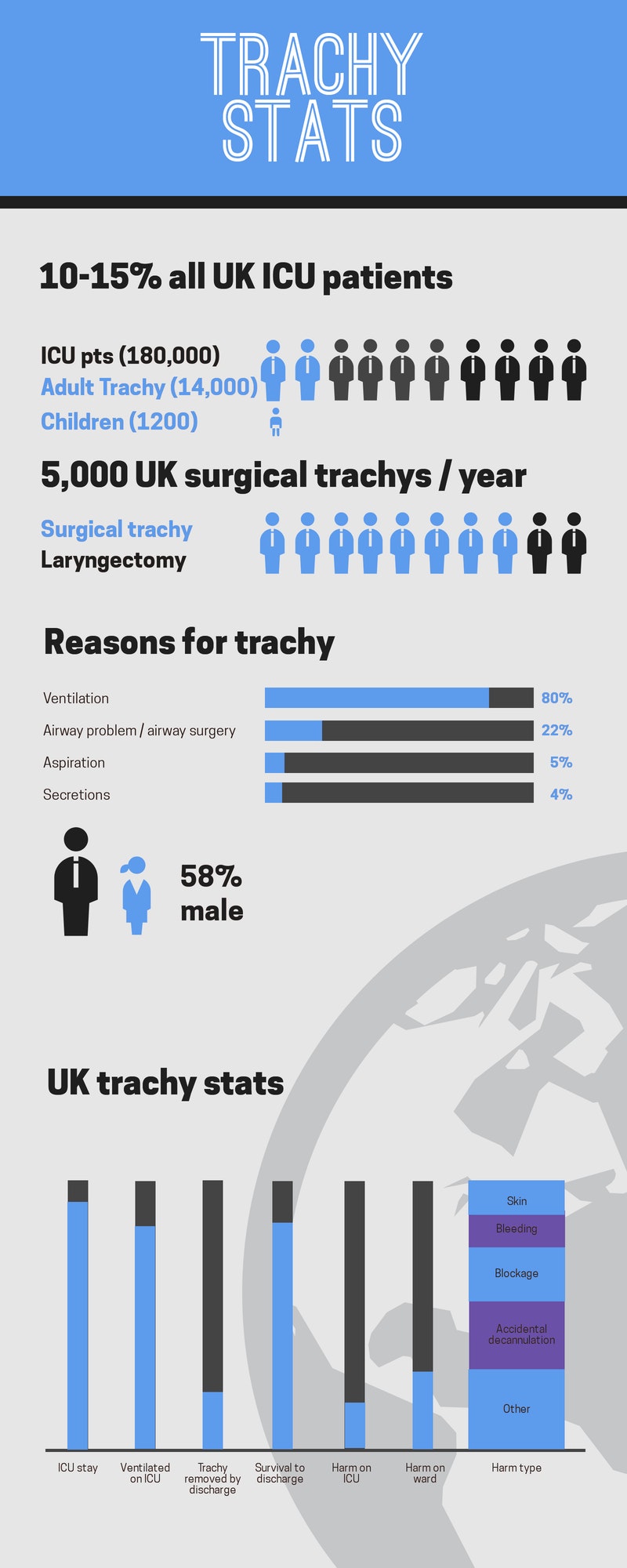 --}}