National Tracheostomy Conference: On the Community Trach?
---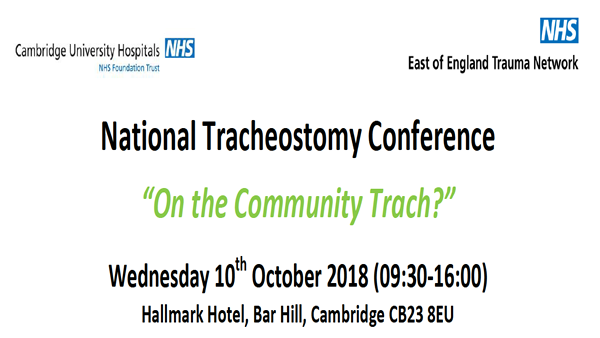 Hosted by Tracheostomy Consultant Nurse Specialist Claudia Russell and colleagues from the EoE Trauma Network (who commonly deal with tracheostomy patients as a result of acute trauma care), around 100 delegates from across the UK and Ireland heard from keynote speakers and frontline healthcare staff about the problems and potential solutions for our patients as they plan or transition into community care.
An unknown number of patients with tracheostomies are managed out in our communities and the group discussed ways to try and capture data around patients who are discharged with a tracheostomy into the community. Levels of care vary from very little to completely dependent care packages, which can be expensive and time consuming to set up, with huge regional variations. We discussed the wide range of patients out there, from the very small, through transitioning paediatric patients, through to adult patients who may or may not be dependent on various forms of invasive and non-invasive ventilatory support.
Dr Kathy Wilkinson, lead author of the NCEPOD report 'On the right Trach' detailed how Trusts are tackling the report's recommendations and updated the group on the paediatric long-term ventilation work. Dr Kate McGlashan from the EoE Network presented the work that the local team have been doing in trying to standardise and streamline the process of discharging into the community. Prof Dianne Playford highlighted the potential for future research from the Rehabilitation perspective and a host of local and national speakers detailed the roles and challenges facing their services, mixed in with positive stories and successes.
The day finished up with small groups summarising and planning the next steps, with all agreeing to work together to share resources and to try and improve the transition and care of patients from the hospital into the community. There's a lot of work to do, but by working together, we can solve some of these complex problems.